Useful Tips

Proper Mowing
Mowing is the most misunderstood part of lawn care, and the most often incorrectly performed operation.
Here are some moving tips:
Mow frequently
Keep your blade sharp
Remove no more than 1/4 to 1/3 of the plant each moving
Do not mow during a drought period
Do not mow at least one day after an application

Watering
Watering in the morning thoroughly twice a week is considered the best program.
Welcome to our site!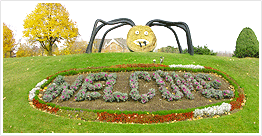 Our family-owned business is providing Lawn and Tree services to thousands of customers in Central Ohio for over 20 years.
During all these years our main goal stays the same - provide personal service to each of our customers.
We are a proud member of the U.S. Federal Contracting Corporation (USFCC). We have been able to accomplish this by having the equipment and knowledge to handle large government contracts.
No job is too big or too small for us.
Customers Testimonials
June 4,
"The owner is very nice, has worked well with us in the past ten years. If we have a problem we just call the office and they send someone out right away."
-Sammy B.
May 28,
"Mrs. Moore does a great job looking sharp when she comes out to get you a quote for yard service. She is business professional and shows that she care about her business. She has professional looking trucks, employees, equipment to get the job done right. She offers a great price on the yard treatment she did for us."
-John C.
April 6,
"Very professional company with good employees, been with them for 16 years. They have kept our yard looking green."
-Sue J.